Click for NIGHT 2
Take a good, long, HARD look at that flyer. Gary Richards has done it again. You can poke blindly at any part and land on someone that should be headlining their own world tour. I had a minor heart attack when I first saw the bill at HARD Summer. This amount of talent couldn't be confined to a one night event, as this is gonna be a whole weekend endeavor. And he's made it damn near impossible to choose a night over the other. Thus, I bought my two day ticket already. At this point, choosing one night just means you're cool with not seeing the DJs on the other, and I'm definitely not cool with missing anyone here. In order to help make your decision easier, I've compiled some artist bios and a track list of songs by from the artists I'm excited to see by night (aka Everyone). This is the best lineup in the world of its kind. It's going to be a delightful halloween indeed.
Saturday, October 30th

Tickets (Currently $65 and rising)
Playlist
Artist Spotlights
With his essential mix making it into the top 5 of 2009, Fake Blood has definitely made it apparent that he's one of the more premier DJs/producers in the electronic scene today. With instant classics, like "Mars" and "I Think I Like It," and his renditions of songs like Miike Snow's "Animal," you can expect nothing but bangers through his whole set. I saw him at HARD 13 in March, and you can take my word for it, he will not disappoint.
The Bloody Beetroots [Death Crew 77]
It wasn't long after I first heard these guys that I knew they were going to be one of the driving forces of electronic music in the near future. Big thanks to Steve Aoki for putting them on his label and getting them the exposure they deserve. It's kind of annoying that Warp 1.9 was the song that put them on the spot, because there is much more to them, but whatever it takes! You've heard it and have gotten down to it at one point or another. The first two times I saw them were DJ sets. Don't get me wrong, they were fun but nothing I hadn't seen before. [Death Crew 77] is their live set and one of the more entertaining shows as far as this music goes. Sir Bob Cornelius Rifo, The Bloody Beetroots's front runner, teams up with DJ Tommy Tea and drummer Edward Grinch for this action packed performance. Rifo sings, plays guitar, and a variety of keyboards while the DJ and drummer back him up for this show. Seeing all of Rifo's talents right before your eyes is definitely entertaining as hell, and having a drummer adds a lot to the sound. DO NOT MISS THIS.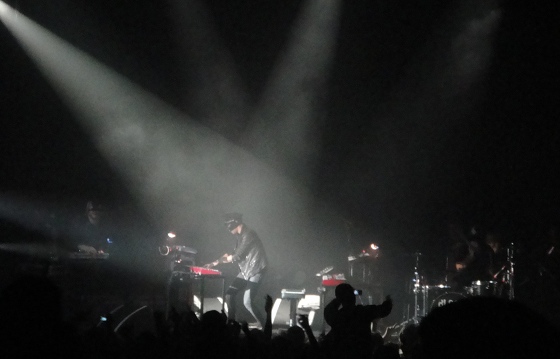 England bred DJ/Producer is finally making his stand in the city of angels. Dubstep's faceman, and newest edition to LA, is working his ass off to shape the world of dubstep in California and the U.S. It pains me to say that I still haven't seen him, because I feel like he would be one of the few dubstep artists I could stand for a whole hour set. His new album O.M.G.! really let me down. I was expecting a whole CD of songs like "Woo Boost" only to find he decided to get into the more mellow, not-as-heavy forms of dubstep. His live shows seem to be the exact opposite of that. I've been watching a lot of his videos, and it looks like his set is going to be a dubtastic fiesta. With remixes like "Da Cali Anthem," I'm sure he's going to come out hard for this crowd. HARD events make or break you as a DJ, and as far as I've seen, DJ's haven't brought anything less than their A game to these events. So, I'm expecting a lot from his performance. Peep the video if you I haven't convinced you.
SebastiAn is another one of those DJ/Producers that has been with me since the beginning of my electronic music escapades (and by good reason, has remained on top as one of my favorites). He has a sound and style that is unmatchable by anyone else. It's kinda dark, has a lot of quick samples that I feel would take ages to put together in the way that he does, and it's bassy as can be…he makes sure of it. He was a special guest at HHM '08, and definitely a highlight of the night. I remember when I heard him open with "Motor" and I ran to the front of the crowd as fast as I could. Flawless set. He even had a remix of "Reptilia" by The Strokes. If you know anything about me, you know about my eternal love for them, so this gave him extra points. I was devastated when HARD Summer '09 was canceled, because I was most excited to see him that night. All is well, as I will make up for it on October 30th, 2010. He is my Delightful Choice of the night. DO NOT MISS THIS.
As you can see, it's going to be a very promising night. I feel like this line-up would have been better for Halloween, because it's a little bit of the darker side of electronic. Regardless, I'm pumped for this. I'll have the Night 2 post in a couple days, probably after the next YOLO List. Educate yourself on these tracks and artists! I would hate for this to sell out (WHICH IT WILL) after you buy a one day.